Cropped and enlarged. No other modification. Can actually see two eyes that look human.
2nd guy from same picture with a little lightening due to it being in a dark background.
This one creeped me out when I saw it - a face just behind the bright double (or moving) orb. If you want to see the entire picture that this was cropped from for perspective, click the picture to open the original. It is too large to put on this page.
Winged Ears
Still wearing red lipstick



Man looking down
Sticking out Tongue
Is this a cat? Looks like it has little grey cat ears.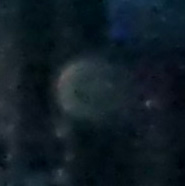 Big grin and
pointy nose. Not modified - only cropped.
Smiley in the front
Talker in the back
Oriental


This one was looking through the window
This one and the one to the right are two different orbs with glowing eyes.

This pair were in front of the woods across the street.